TIMESPURWAKARTA, SURABAYA – Richeese Factory is one of the fast food restaurants in Indonesia with crispy fried chicken as its main menu, served with creamy cheese sauce. In the beginning of 2020, Richeese Factory officially announced its new menu, Prospericheese.
Fahmi Ristianty, the Head of Marketing of PT Richeese Kuliner Indonesia, said that Prospericheese comes from the word 'prosperous' combined with the word 'richeese'.
Prosperous means success and luck. Therefore, this menu is expected to attract more prosperity to Richeese Factory.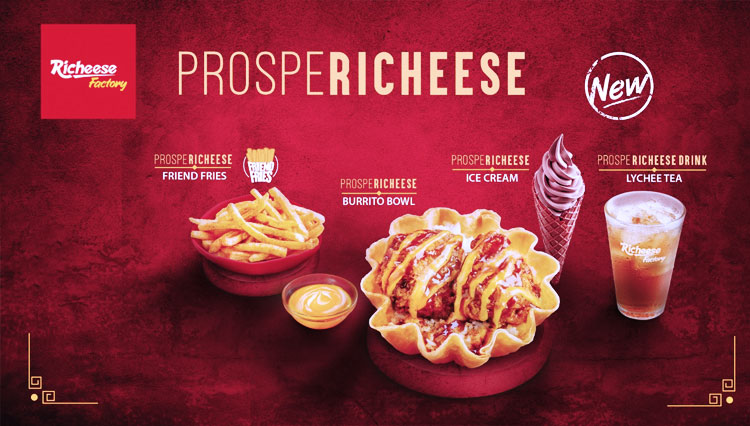 Prospericheese consists of Prospericheese Burrito Bowl, the fried bowl-shaped tortilla bread filled with warm rice, and spicy or non-spicy Chicken Bites drizzled with cheese sauce and mala powder.
The third one is Prospericheese Friend Fries, French fries with the mouthwatering mala powder that can be enjoyed with Prospericheese Lychee Tea, the fresh tea with sweet-sour taste of lychee.
"The last menu is Prospericheese Ice Cream, ice cream with distinctive taste that cannot be found anywhere else," said Fahmi.
According to Fahmi, the combo package of Prospericheese starts from IDR 29,091 (tax excluded) for Prospericheese Burrito Bowl and Fruitarian Tea / Lychee Tea.
The customers may also order one of the Prospericheese menus in ala carte. Prospericheese Burrito Bowl ala carte starts from IDR 25,545 (tax excluded), Prospericheese Friend Fries for IDR 16,364 (tax excluded), Prospericheese Drink for IDR 10,000 (tax excluded), and Prospericheese Ice Cream starts from IDR 10,000 (tax excluded).
"Prospericheese menu is available anytime. You can enjoy it by yourself or with friends," Fahmi added.
Prospericheese Friend Fries is served with sprinkle mala. The best beverage to enjoy with this menu is Lychee Tea.
Prospericheese Burrito Bowl has an edible tortilla bowl. You may also add some mala seasoning that can be added based on your preference.
You may dine-in or takeaway the menu. Prospericheese also provides delivery service at 1500220, available from 11 a.m. to 9 p.m. with no minimum order. The customers may also make an order by GoFood or GrabFood. The prices may be different in each outlet. Meanwhile, the special price or the promotion is based on every online delivery app.
Richeese Factory wants to satisfy the Indonesian society's appetite by presenting this new menu, and keeps innovating new distinctive menu that can be the perfect choices of Indonesians. So, what are you waiting for? Let's visit the nearest Richeese Factory outlet and enjoy its new menu. (*)
Baca Berita Peristiwa dan Politik terbaru di Indonesia dan luar negeri lainnya hanya di TIMES Indonesia.